Joined

Jan 13, 2007
Messages

10,928
Reaction score

168
URD has hit another milestone.
URD was the first company to bring to market a forced induction system for the 1GR-FE engine. Our first system we call the Mark 1 system made over 300 RWHP in its original form.
A while later the system was updated to the Mark 2 configuration using a larger supercharger and air/air intercooler system and we broke through the 400 RWHP barrier.
The system was again updated to the Mark 3 configuration using better engine management and a cold air intake system. The stage 3 system normally ranged in the 430-450 RWHP range, with some pushing higher. The system could not be maxed out due to limitations of the stock engine.
URD worked with Darton a good while ago to develop the first mid sleeve kit for the 1GR. Once the sleeved block was delivered we contracted with an engine builder that failed to complete the build. Although this set things back a good bit, it did give us the opportunity to start over from scratch and this time we decided to include stroker rotating assembly from Brian Crower.
The new engine was installed a couple of weeks ago and started right up and drove perfectly. The self tuning ability of the UCON-Ethos did not require any manual calibration changes. It was driven for 500 road miles without a glitch.
Today it was put on the dyno. My last dyno on the stock engine with the same configuration put down 440 RWHP (-91 w/75mm), today after a few runs it easily push through 500 RWHP. The highest it was pushed today was 539 RWHP with an 80mm pulley and 7000 RPM redline. It was backed off to right at 500 RWHP and we are going to run it like that for a while. This was all done with 93 octane pump gas.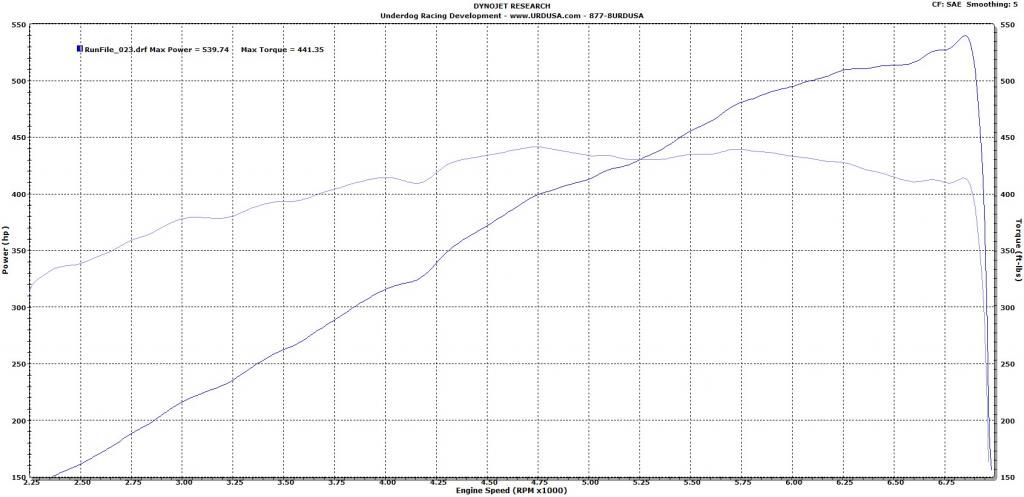 Last edited: